Hi everybody! I'm so excited to be co-hosting

The Book Chat

with Jessica from Sweet Green Tangerine this week! Sorry for the delay folks, I was off having an awesome time at the Maroon 5 concert yesterday. :)
Anyway, this week's topic is Children's Books. I love this topic, not only because it reminds me of the books I loved as a kid, but also now that I have kids, I get to enjoy kids' books with them as well.
So, we'll start with my favorite growing up.
I could read Charlotte's Web over and over and over again. I absolutely loved it. The animals, the words that Charlotte would weave in her webs (yes, I'm a word nerd), all of it. I would watch the movie over and over again as well. To this day, I still want to have a pet pig. Haha.
My sons are 4 and 2, so the books that they love are obviously geared toward younger kids, but are still fun nevertheless. :)


They both love this book. Of course they always want a cookie after I read it, too. ;) It's a cute book and kind of teaches them to think logically, sort of. Like, after you eat a cookie, you're obviously going to need a glass of milk. haha.
And this Dr. Seuss book is their fave. They always giggle at the nonsensical words and Dom, my 4yo, loves counting the various crazy objects on the pages. :)
So, now it's your turn. Tell us what your favorite (or your kids' favorite) children's books are! Grab the button below and link up with us. :)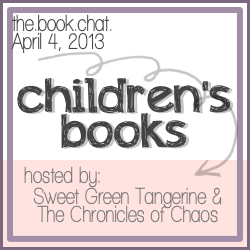 To join in...





1. Please follow the host and co-host.





2. Visit a few other book chat links and show some support.





3. Link back here in your post. Or use the button provided.





4. Old posts are always welcome if you have blogged on the topic before.




Link up your posts below. I can't wait to read your posts! :)