I think people (women especially) should know when some things shouldn't be said. Men are kind of oblivious sometimes, so I give them a teeny, tiny pass. But ladies? I've met some who should know better. Especially when talking to women who are pregnant or who have recently given birth!
What am I talking about? Well, let me take you back to 2008. I had been home from the hospital for 5 days after giving birth to Dom. We were also in the midst of closing on our house and preparing to move and life was

crazy

at the time.
So, we came to our house to do a final walk-through. The realtor met us there. I get out of the car, and obviously, I'm tired from having a newborn and not sleeping much and still being a bit uncomfortable and recovering from birth. And, ladies, those of us who have had babies know that your belly may still look swollen in the weeks (and months!) after giving birth. So she immediately says "Oh honey, you look so miserable, how are you doing?"
And I say "Oh, I'm OK, just really tired. The baby has been up every few hours and I haven't been sleeping."
Realtor: "I bet! So when are you going to finally have the baby?"
Me: *chuckling uncomfortably, thinking she's joking, since I just said the baby hasn't been sleeping, etc.* "Ha, you're funny."
Realtor: "No, really, I'm curious. You poor thing, you look like you're going to pop at any moment."
Me: "Are you serious?!"
At this point, Charlie pipes up because he can see the steam coming out of my ears and says, "Um, our son was born 5 days ago."
Realtor: "Oh. Well, oh my goodness, congratulations! But wow, look at your belly. You still look pregnant, when will it go away?"
Me: *fuming at this point* "Well, dear, it took me 9 months to grow the baby, I'm thinking I might need more than 5 days to recover. But thanks for your concern."
Mind you, this was not some young, immature girl - this woman had to be in her 40s or 50s at the time. Old enough to know better!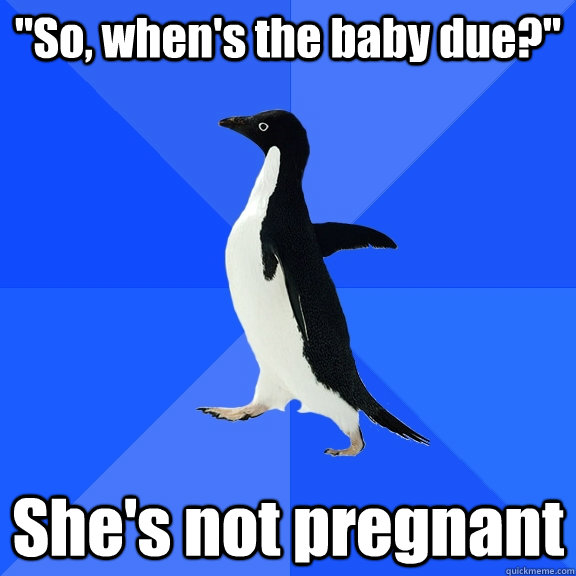 She knew I was pissed because I didn't talk to her during the rest of the walk-through and after we went to closing and signed all the paperwork I left without saying anything to her. She came by the house a few days after we moved in and I was exhausted and laying in bed and Charlie answered the door. She wanted to come by and congratulate us on the house and see the baby. Charlie told her that the baby and I were sleeping, but he'd tell me she stopped by. And I could hear her say, "OK... well... is she still mad at me? Tell her I'm sorry."
HMMPPHH. Keep your sorry, woman! :-)
That lady = not awesome. But you want to know who is? Well, my friend Andrea from Andrea's Adventures, that's who! She stopped by to answer a few questions so we could get to know her better.
1) Andrea, you seriously have a cool job, tell us more about it.
I work in Football Operations for the NFL. It's not always as glamour as working big events and being around celebrities, but it does have those perks on occasion. My main job is to manage our High School Player Development program. This program is a mix of character development and football fundamentals. Along with these camps, we host leadership programs and 7-on-7 tournaments for high school football players all across the country each year. You can learn more about HSPD on our website here. The busiest part of my main job occurs in the summer and fall so I am able to help out at some of our big events like the Draft, Championship Week, and the Super Bowl during the early spring and winter.
2) Speaking of football, c'mon, give us your prediction, who's going to win the SuperBowl?? :)
I think the

Ravens

will win, but it should be a close game. I think it is really cool that the Harbaugh brothers are facing off against one another. It has made for an interesting and historic week down here in NOLA. Looking forward to seeing how it turns out on Sunday.
3) If you could travel back in time, what time period (or event) would you most want to see?
Though I have no interest whatsoever in being a part of the time period of the 1960's or the days of the Civil Rights Movement, I would really love to meet Martin Luther King, Jr. My boyfriend, Chris, and I went to see the broadway show about MLK, Jr.'s fictitious last night on earth, The Mountaintop, last year. It was a great show and really made me think more about him as a man versus a national hero. I think it would be cool to meet him.
4) You just won $10,000 in the lottery. What's the first thing you'd buy?
I know it might seem kind of boring, but I would probably save most of it. I anticipate lots of expensive things like a house, kids, and potentially further education in my future so I would rather save it up for then than spend it now. But I probably would move into a one bedroom apartment and use a little bit each month for the increase in rent. It's WAY too expensive to live in Manhattan!!
5) Coke or Pepsi?
For the most part, I only drink water. I do like the occasional Sprite Zero or Root Beer :)
Mmm, now I want a root beer float, haha. And yay, go Ravens!! :) Thanks so much, Andrea, it's great reading more about you! I'm so glad we were paired up for the nail polish swap we did last year because I have loved reading your blog!
Anyway, Andrea has a treat in store for you guys! It's a goal of hers to watch all of the films nominated for Best Picture before the Oscars every year, so she wants to send one of you to the movies with a $20 gift card to AMC or Regal Cinemas Movie Theater (winner's choice!). Enter below for your chance to win!! Plus, she'll be posting reviews for the Best Picture movies on the 10th and the 17th on her blog, so you can stop by and get some ideas of what movie you want to see with your gift card!! :) So exciting!
a Rafflecopter giveaway
Have a great night, lovelies!