Hey peoples! I'm linking up with
Jessica
today for
The Book Chat!
Here's this week's topic: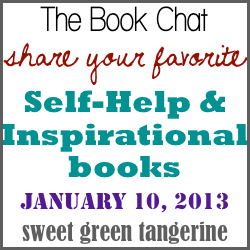 And here's the book I read recently:
Synopsis from Amazon:
Gretchen Rubin had an epiphany one rainy afternoon in the unlikeliest of places: a city bus. "The days are long, but the years are short," she realized. "Time is passing, and I'm not focusing enough on the things that really matter." In that moment, she decided to dedicate a year to her happiness project.

In this lively and compelling account, Rubin chronicles her adventures during the twelve months she spent test-driving the wisdom of the ages, current scientific research, and lessons from popular culture about how to be happier. Among other things, she found that novelty and challenge are powerful sources of happiness; that money can help buy happiness, when spent wisely; that outer order contributes to inner calm; and that the very smallest of changes can make the biggest difference.
This book gets 3.5 out of 5 stars for me. The author, Gretchen Rubin, embarked on a year-long happiness project. She wanted to figure out what made her happy and how to set long-term goals bringing more happiness into her life.
I enjoyed the book a lot and it really inspired me to think about trying something similar. The nerd in me wants to sit down and jot down some ideas for a year-long project. I think it'd be something I'd enjoy.
But the reason I gave it 3.5 stars is because it seemed just a tiny bit contrived... The author would give an example of something she wanted to try and then share a story about how awesome it was and how great it worked.... but she did so for almost EVERY single example. Maybe it's the skeptic in me, but I wanted to hear more about the failures... and she did touch on some briefly, but that's real life, right? I want to hear about what happens when you try to do something to make yourself happy and it doesn't work. Then what do you do?
But otherwise it was extremely inspiring. Life is short! finding happiness should definitely be a big priority in our lives.
Come check out Jessica @ Sweet Green Tangerine for some more posts about inspirational/self-help books!
What have you read that inspired you lately??

Please share, I'd love to hear about it! :)