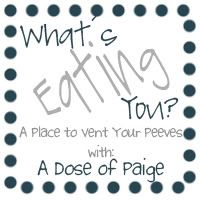 So my friend Paige has this new link up called "What's Eating You?" and each week you get to talk about some of your pet peeves on certain subjects. This week's subject is social media. So here are some of the things that bug me about social media:
- People who ask a general question on Facebook when they could easily find the answer by taking 2 minutes to look it up themselves! For example, "Hey, does anybody know when Target closes today?" Um really... just Google it. Or call them. I'm not your maid. Quit being lazy.
- People who post passive agressive tweets/status updates. Either say what you gotta say, or shutty. None of this wishy-washy, "I need attention and want you to ask me what's wrong" crap.
- I hate that Facebook has these new formula/algorithm thingies where if you include your link in your fan page update, nobody really sees it. I mean, why? What is the point? But if you just post text only, it's fine. Facebook, we might not be friends for much longer.
- When people post all these awesome pictures of stuff, like their Erin Condren planners and Tory Burch shoes, etc, that I can't afford. But that might just be a pet peeve with my finances.... ;)
So, those are a few of my pet peeves for social media... what are yours?? Come link up with Paige and share. We can all gripe together! :)
Oh and before you go, please check out my girl Allie's 500 follower giveaway! You could win a

$100

(yes, you read that right) gift card to the store of your choice (entries will be verified)!! I wouldn't wait if I were you! :) The giveaway will be open until 27 Jan. Good luck!!!
a Rafflecopter giveaway