Hey y'all. It's that time again where I link up with Jessica from Sweet Green Tangerine for The Book Chat!
This week's topic: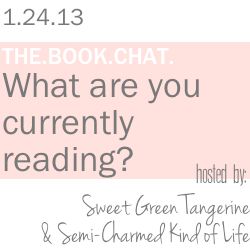 So, what am I reading right now? This...
It's pretty good, so far. Here's the synopsis from Goodreads:
Washington, D.C., Metro Police Detective Sergeant Sam Holland needs a big win to salvage her career--and her confidence--after a disastrous investigation. The perfect opportunity arises when Senator John O'Connor is found brutally murdered in his bed, and Sam is assigned to the case. Matters get complicated when Sam has to team up with Nick Cappuano, O'Connor's friend and chief of staff...and the man Sam had a memorable one-night stand with years earlier. Their chemistry still sizzles, and Sam has to fight to stay focused on the case. Sleeping with a material witness is another mistake she can't afford--especially when the bodies keep piling up.
I know it sounds like your typical romance story, but I promise that the action and the ups and downs of the case greatly outweigh the mushy-gushy stuff. I've still got a little way to go, so I still don't know who murdered the Senator, but I can't wait to find out!! It's one of those books you can't stop reading! :)
What are you guys reading?

Share in the comments, so I can add it to my "to read" list on Goodreads. And if you have an account on Goodreads, come add me as a friend here! :)
And please don't forget to enter these

amazing

giveaways that I'm a part of:
-Massive Ad Space giveaway, 3 Winners - Courtesy of Paige's 1,000 follower celebration!
-$100 gift card to the store of your choice! - Courtesy of Allie's 500 follower celebration!
-Gift cards, ad space, and journal and pen set - Courtesy of Helen's awesome sponsors!
Ciao!