Let's get to it, peoples! I've got some thangs to say and get off my chest. You ready?
1)
I confess that I always look forward to Sundays so I can confess the crazy stuff that I do or think throughout the week.
I also confess that I sometimes will write the post days in advance and then just schedule it to post on Sunday. That's not called cheating, that's called effective time management. Boom. P.S., right now it's Friday night. What?? It's Sunday somewhere... in the future.
2)
In the interest of full disclosure (and because I know you totally care), I confess that I have semi-hairy kneecaps.
Why, you may ask? Well, because I really, really, super mega loathe cutting myself when I'm shaving my legs. And the kneecaps are such a nick-prone area. I'm just so delicate [try to contain your snorts of laughter, I can hear you all the way over here]. And besides, it's winter... who is going to see my knees anyway??
3)
I confess that these 2 boys are my heart and make me smile every single day.
And they get their goofiness from their father. Not me. Nope.
4)
I confess that America is nuts for not voting to keep Amanda Brown on The Voice.
I like the remaining contestants, I do. But come on, Amanda is AMAZING. I'm bitter. At least Melanie went home, thank goodness. I couldn't stand another one of her glare sessions with Christina Aguilera. Like, sweetie, you're 15... and you may not like Christina, but she can sing circles around you for days. There's a reason she kept complimenting the set and not your performances! #sorryimnotsorry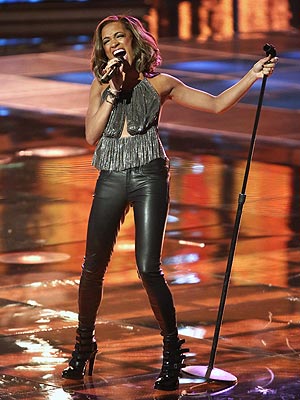 Amanda Brown Via
5)
I confess that there is one very important thing that I look forward to every year during this time.
Yes, family time and the spirit of Christmas is super important to me. But that's not what I'm talking about.
THIS
is what I'm talking about:
Christmas wreath cookies!!! I'm speechless. Just look at that morsel of delectableness. I don't even care that that is not a word.
And that's all, folks. I'm off to eat a cookie, or 3. :)
Happy Sunday!!!!
Ciao!