I feel like I am behind on everything!! And I can never catch up! It's so stressful. And then I hate blogging about it, because I feel like all I'm doing lately is complaining. But I know you guys know that real life isn't always puppies and rainbows, so this is me in all of my stressed out, tired, complaining glory.
Things that aren't done, that need to be done:
Put up Christmas tree and decorations
Get organized for my Christmas card list
Finish Christmas shopping
Get caught up on my stacks of coupon inserts
Get caught up on laundry (I feel like this will never happen!!)
Weed out the boys' old toys and donate them and get rid of this clutter!
Try and get back into meal planning. These wasted groceries are becoming really expensive because I have no set plan in place and nothing prepped. And when I rush home and the boys are screaming that they're hungry, I don't have time to chop veggies or thaw chicken, etc. And then whatever I've bought goes bad and I throw it out and order pizza, or whatever. Sigh.
Start getting organized for 2013 and scheduling doctor/dentist/vet appointments so they don't slip through the cracks.
I. Need. To. Work. Out. Between work, kids, housework, just life in general, I haven't been taking care of myself at all. It's sad and I'm sure it hasn't helped me with my recent health problems, since I've been sick what feels like 20 times this year.
UUgggghhhh. I'm tired. And stressed. And I just want to bury my head in the sand and wait for everything to go away and take care of itself.
OK. Sorry. Sometimes you just gotta VENT! And then suck it up and move on. :)
One thing that has been very helpful to me is connecting with (and venting to!) the lovely ladies I've met in the blogging community. Kim from
Singledou[b]t
was one of the first bloggers I connected with when I first started blogging. We met through a giveaway, but she was SO sweet to me and really made me feel welcome when I was a total newbie. :)
I'm so excited to have
Kim
here so we can all get to know her better. Check her out: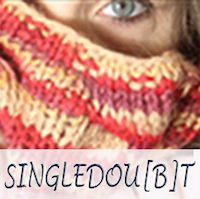 My name is Kim and I blog over at Singledou[b]t. Singledou[b]t is a blog about all sorts of things; my life, my hobbies, and my faith. Day to day, its as random as I tend to be.
1) I've only been to New York one time as a kid, to do the touristy stuff like visit the Statue of Liberty. What's "real" New York life like and do you love living there?
I do love living in New York. I intended to only be here 2-3 years and 10 years later I have no plans on leaving. Real life in the city, for me at least, isn't too much different than your life outside of the city. I go to work, I play and I hang out with friends. The differences are, I walk a lot and I ride the train a lot. Its also much more fast paced and people let you know when you aren't keeping up but my life isn't too much different. I rarely do the touristy things. I spend a lot of my time at home, someone else's home or in coffee shops with friends.
2) I love your shop! Your scarves would make great gifts for the holidays - where do you find your inspiration?
Thanks! You are too sweet! I guess, like most of the things I do, I get inspiration from looking at what others are doing and making it my own. I am actually not sure where I came up with my infinity scarf ideas. I love cowls and the idea of infinity scarves so one day I sat down to make them and they evolved over time. That's how I tend to work. Sometimes I start with a pattern but sometimes I start with what I think the pattern is going to be and I do my best to make it work. Sometimes it works out and sometimes it doesn't.
3) Describe what a perfect day would be like for you.
Oh that's tough... I think in general, my perfect day would be to get in the car with either my best friend or my mom and just go driving in the mountains (preferably with fall colors), taking pictures, exploring the area and then eat at great restaurants, ending the day curled up watching some
great
bad TV and knitting.
4) Do you have a favorite dessert?
Pumpkin Cheesecake via
I used to think that I had a favorite... but i have many. I love Tiramisu, creme brulee, and pumpkin pie (especially pumpkin cheesecake) but I also love ice cream, peanut butter cups, and cake with lots of cream cheese icing. Basically if you gave me a dessert, I'd eat it.
5) And my fave question: Coke or Pepsi?
Neither. I don't like to drink either. Design wise I have been a Coke fan since i was a little girl but to drink I can't stand the taste of either. I am a water, coffee and wine girl!
Hmm, what do you guys think? I still call it a win in the Coke column! ;) Thanks so much, Kim, it's great to know more about you. I hope you guys will stop by and
visit Kim
sometime soon and tell her Mia sent you!
Ciao!