...or actually it's time for the
Fall Favorites Swap Reveal!
(but I do have that song stuck in my head... and I may or may not wiggle every time I hear/sing that lyric... it's kind of mandatory to wiggle...)
Anyway... for this swap, we were paired up based on our favorite things about Fall (weather, fashion, food, holidays, traditions, etc). I was lucky enough to be paired with TWO lovely ladies for this swap.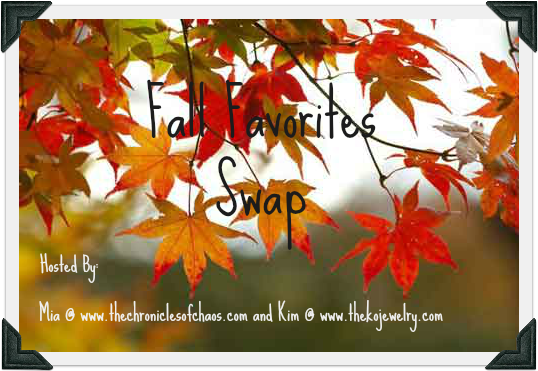 First up, Jessica from
Fantastically Average
and I were paired up because we both love the holidays associated with Fall. Jess sent me some really great goodies, check them out:
I mentioned to Jess that I *love* sweet potato casserole and
she sent me her recipe in that lovely card! :)
Thanksgiving is my fave holiday, so these gifts were perfect!!
Thank you, Jessica, I loved it all!!! I'm so excited to put up that sign on our front porch. :)
I was also paired up with the awesome Allana from
A Husband and a Dog
. Her favorite thing about Fall are the traditions. Check out these super awesome gifts she sent:
How cute are those cookie cutters?!
And yay! I got nail polish, too, my fave! :)
Thank you Allana, you're so sweet, and I completely loved my goodies!!! :)
I hope you guys will go visit
Jessica
and
Allana
and see what I sent them as well.
**And a special shout-out to my AMAZING co-host, Kim from The K.O. Jewelry - thank you THANK YOU for all of your help on this awesome swap. You rock!! xo**
OK all of you lovely swappers, link up your reveal posts below or at Kim's
blog
. I can't wait to see what you guys received! :) And I hope you all had a great swap experience!
Ciao!