Well hi there, lovelies! It's Tuesday night and I'm sitting here glued to the election coverage, like most of the nation. By the time this posts on Wednesday morning, we'll at least have a better idea of who our President will be. I hope you guys voted!
You know what you don't need to vote on? Reading
awesome
blogs. Oh, like Ashley's blog,
Of Thoughts and Things
. Ashley lives in Utah, loves singing, and just got married a few months ago. I of course wanted to get to know her better, so read more and you can, too!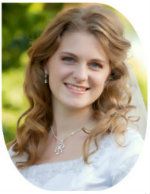 Hi Ashley! You've got some amazing photos on your blog with special effects makeup - tell us more about that.
I am majoring in Theatre Education. There are some tough classes that I have to take, but there are fun classes too, and one of those is a Makeup class! We learn how to do male and female corrective makeup, glamour, turn ourselves into old people, give ourselves realistic-looking bruises/cuts/burns etc. and even turn ourselves into animals or abstract objects or... pretty much anything. We'll be putting beards on our faces in a week or two, and that will be amusing! Here's a picture of me when I turned myself into a
raccoon
:
What's your favorite thing about blogging? And least favorite?
I have kept an up-to-date journal since I was in 5th grade, and blogging is like an online extension of my journal. I love documenting my thoughts, my experiences, things I do or don't like, and so on. My least favorite part of blogging is having writers block. It is so frustrating to not know what to post about!
[Mia edit: I know exactly what you mean, Ashley, it happens to me all the time. But I may have a cure for that! ;)]
If you won the lottery, what's the first thing you'd buy?
I would buy materials and land so that Doug and I could build our own Victorian-style mansion. Complete with a ballroom, library, and secret passages.
Do you have any Fall traditions?
I currently do not have any concrete traditions, since my husband and I have only been married for almost half a year, so this is our first fall together. College also threw my traditions off... But, back home I would always go to various carnivals and parties each year. I HAVE to have pumpkin flavored foods. Playing in leaves is also a must, no matter how old I get.
Coke or Pepsi?
Neither. Dr. Pepper is the way to go.
How awesome was that raccoon makeup?! I wish I had talent like that. :) Um, and secret passages in your dream home?! I am soooo with you on that one, Ashley! :) Hope you guys stop by Ashley's
blog
and say hi, she's a sweetie!
Ciao, peoples!