I'm really loving this cool weather we're having! I got to break out my sweaters and hoodies this weekend, which always makes me happy.
You know what else makes me happy? Swaps! And my lovely friend
Allie
for hosting this awesome scarf swap.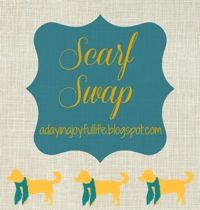 I was paired with Milla from
Curiosity Runs in My Veins
. She is from Norway, but lives in Singapore with her hubby, how cool is that?! She is a nurse and also has 2 super cute doggies. :) It was really great discovering her blog and getting to know a bit more about her. Please go check her out when you get a chance! :)
Now, on to the package that Milla sent me:
I was so excited to see this when I opened the pkg! It's like Christmas! :)
Look at these great goodies! Some skin masks/peels, hair ties, etc.
I love these socks! I have a secret obsession with funky socks,
so these are perfect!
And of course, THE SCARF!! :) I love it!
There you have it, folks. Yet another successful swap! And sorry about my hair, I've been laying around the house most of the day not feeling well. But don't look at the hair, look at
THE SCARF
! :)
Thanks so much to Allie and Milla, big hugs!
Ciao!