Hi everyone! I took a little break from blogging the past few days (the post from yesterday was pre-scheduled! Gotta love technology!) because I've just been so tired. This exhaustion is really getting me down. But you know what cheers me up? My wonderful hubby.
So, even though he barely ever reads my blog (love you, sugar!), if I was going to write him a letter, this is what it would say:
Dear Charlie,
Thank you. Thank you for always listening to me when I need someone to talk to. Thank you for being such a loving father to our 2 boys. Thank you for indulging my love of corny jokes. Thank you for always telling me "it will be OK" when I get stressed out (which has been all the time lately). Thank you for always kissing me good night and good morning, every single day without fail.
Thank you for changing the channel when horror movie previews come on because you know I will have nightmares for weeks they creep me out. Thank you for making it impossible to be mad at you for longer than 5 minutes because you do stuff like this:
And this:
And this:
Thank you for being you and for loving me. xoxo
Love,
Me
I'm linking up with Cassie from
Live.Laugh.L0ve
for the
Husbands Need Love Too
monthly link up.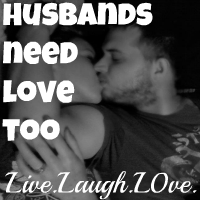 Once a month, you will write a post dedicated to your husband.
It can be a letter to him.
Bragging about an awesome skill he has.
You can do a vlog with him.
A questionnaire.
You can have him write a post himself.
Whatever just make it about him - including him in it.
Then on the 15th of every month you publish the post and link it up and let everyone see how much you love your man, how proud of him you are, etc.
Rules:
Really there are not many.
1. You must follow Cassie's
blog
.
2. The post must include, be from, be about the hubs. That's it.
I hope you'll join us and link up! I bet it will make your hubby smile! :)
P.S. For next month's post, I'd really like to do a vlog (my first ever!) with the hubby. I'd like to ask him some questions, do a little mini-interview.
So comment below and include a question
you'd like for me to ask him! He'll get a kick out of it. And I will get over my vlog jitters because he'll be right there with me. :)
Ciao!!